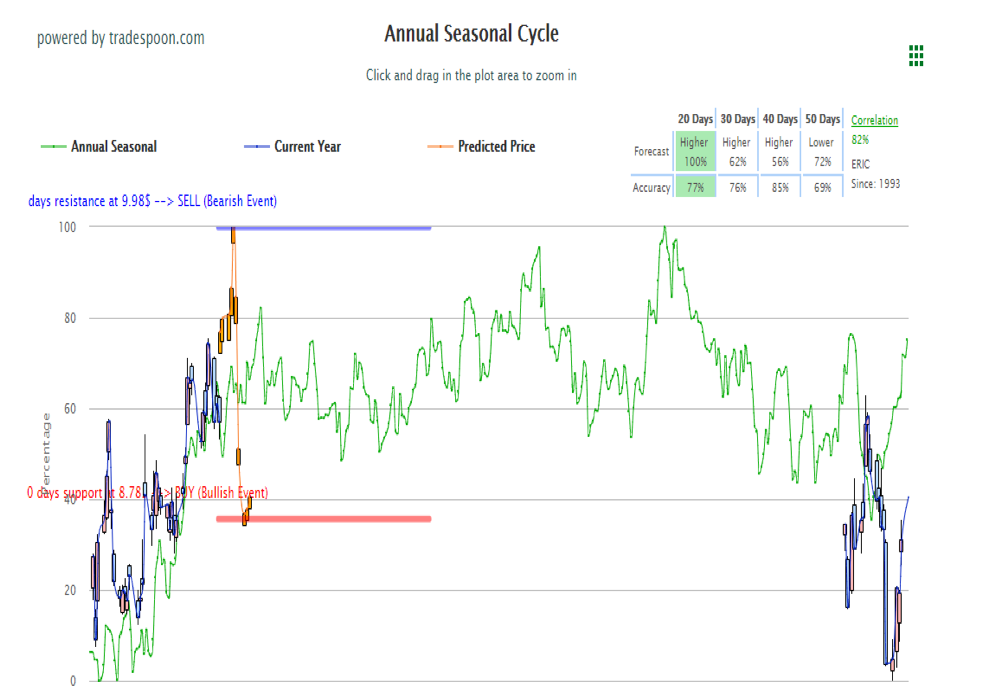 5G Stock Buy Alert "Under $10"
RoboStreet – February 28, 2019
Closing Out February on a Quiet Note
Equities spent the better part of this week consolidating the torrid gains of the prior nine weeks. A pause that refreshes is constructive for the broad market and after a couple of attempts to take out resistance at 2,800-2,815 for the S&P 500, traders and investors are inclined to book some gains and hopefully revisit their favorite stocks at lower levels if the market provides some give back. The first line of key technical support sits at 2.720 (200-day m.a.) and then at 2,630 (50-day m.a.)
The macro landscape still favors the bulls as the tariff deadline has been pushed back indefinitely, the Brexit deadline is looking like it may also be extended or even subject to another vote, the European Central Bank voiced its openness to restarting quantitative easing to stimulate a softening economy in the Eurozone and China continues to pump fiscal stimulus in their financial system to support growth. Most of all though, the Federal Reserve continues to put forth a dovish narrative that is keeping bond yields low while providing a major catalyst for stocks.
Market leadership has been defined by strength in cloud and cyber security, fintech, consumer discretion, aerospace defense, medical device and diagnostic, media content and select specialty retail. It will be interesting to see how sector rotation takes shape heading into March with earnings season pretty much behind us now. But the market has enjoyed good leadership from some of the most favored institutional names like Boeing (BA), Microsoft (MSFT) and Visa (V).
---

"I'm investing my own money in each and every stock as my AI platform identifies." 
And remember we're not talking about day-trading here.  I'm looking for 50-100% gains inside of the next 3 months, so my weekly updates are timely enough for you to act.
---
As 2019 unfolds, there are a few dominant themes at work that have the attention of Wall Street analysts seeking out the next big spending waves for business. One of them is the 5G rollout that will make wired and wireless networks much more robust so as to handle call connectivity, live streaming, digital file sharing, gaming and browsing at much faster speeds while offering huge cost efficiencies to service providers.
The installation of 5G networks is where lies some promising investment ideas to embrace, and most of the major tech hardware companies are claiming to have a big 5G presence, depending on their specialty areas. Of the many notable companies to consider, LM Ericsson ADR (ERIC)is right in the thick of providing 5G infrastructure on a global basis.
To date, Ericsson has announced no less than ten deals with major telecom service providers to roll out 5G networks this year in the U.S., Europe, Asia and Australia, as well as 42 memorandums of understanding.  CEO BörjeEkholm was quoted as saying "We are truly switching on 5G around the world in 2019."
"Consumers and enterprises are waiting for 5G," Ekholm said. "According to Ericsson ConsumerLab research, one-third of smartphone users globally will change either immediately or within six months to a service provider that switches on 5G. Today, the US and Asia are leading in 5G development." As noted, the race to install 5G by service providers will draw the greatest number of early adopters, which is crucial to companies like Verizon, AT&T, Sprint and T-Mobile just in the U.S. alone.
Earnings for 2019 are expected to soar by 272% to $0.41 per share from $0.11 per share in 2018 on forecasted sales of $23.83 billion. And with the brunt of the 5G buildout expected to last well into 2025, the runway for revenue and earnings growth for Ericsson looks quite bright.
As to how the stock rates from my Tradespoon tools, the Seasonal Chart is giving shares of ERIC a very bullish thumbs up with three higher probability readings for the next 20, 30 and 40 days.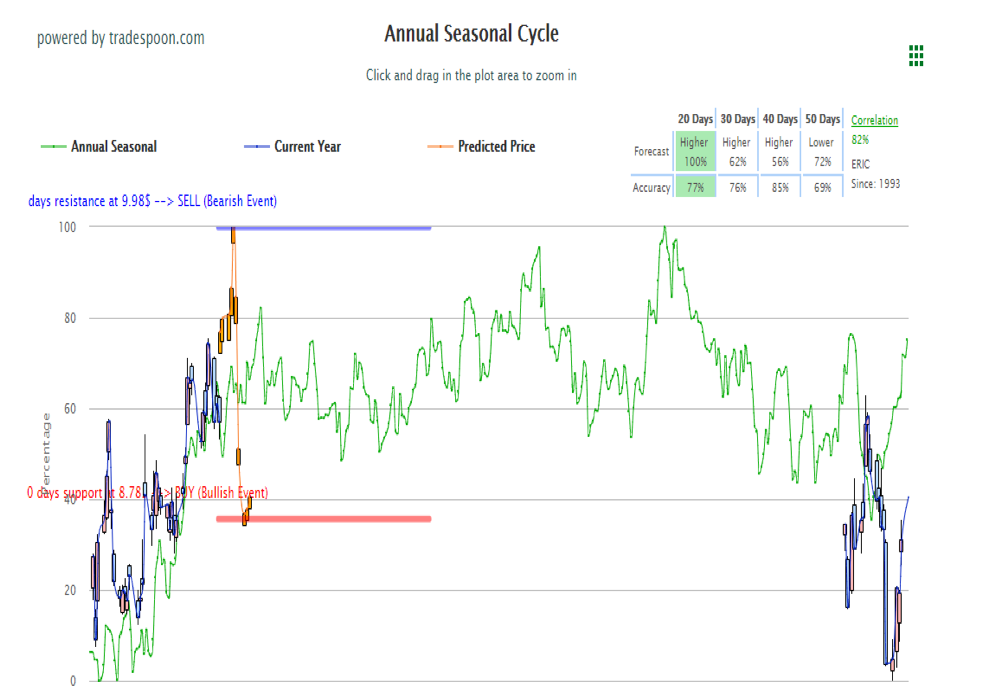 ERIC stock has been trading in a tight one-point range for the better part of a year and is now looking like an imminent upside breakout is in the making. A three-day close above $9.50 will likely trigger a move back to its 2015 level of $12, implying a potential gain of 26% from current levels. Breaking above $12 opens the way to $15 where the stock traded in 2011 and is not out of the realm of possibility given the strong tailwinds of the 5G phenomenon that is going to have ERIC printing profits.

For those readers that want exposure to the most prominent 5G stocks on a fundamental and technical basis, my RoboInvestor Model Portfolio will be adding stocks with the greatest stock price appreciation potential over the next six months. But the only way to access these names is to become a RoboInvestor and come alongside hundreds of other subscribers that have made the smart decision to invest with me in the same stocks and ETFs I own in my personal portfolio.
Give your portfolio a big edge over the rest of the investing community by putting the power of a highly customized Artificial Intelligence platform to work that is tailored to find the highest quality stocks and ETFs to buy and trade on a the most-timely basis available anywhere. Make RoboInvestor your go-to stock and ETF selection tool today.
---

"I'm investing my own money in each and every stock as my AI platform identifies." 
And remember we're not talking about day-trading here.  I'm looking for 50-100% gains inside of the next 3 months, so my weekly updates are timely enough for you to act.
---