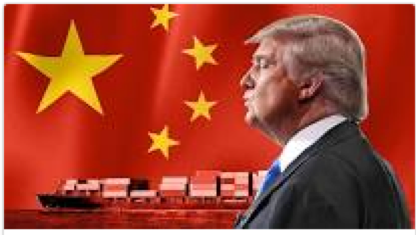 AI Serves Up Huge Four-Day Gain in Home Delivery Stock
RoboStreet – August 23, 2018
Trade and Trump Hit a Big Bump
Headlines of a plea bargain by President Donald Trump's former personal lawyer, Michael Cohen, came as he stated he has "knowledge" about computer hacking and collusion that may interest Special Counsel Robert Mueller in his investigation into Russian interference in the 2016 election.
Just after the Cohen report aired, former Trump campaign chairman Paul Manafort was convicted on eight counts of tax and bank fraud charges. Both developments stoke the ongoing investigation by Robert Mueller that diverts investor attention away from robust economic data that led the S&P 500 to a new record high this past Wednesday.
The market's reaction was initially muted as traders take a wait and see approach to the politically charged situation. However, selling pressure returned to the market landscape as reports are surfacing that the two-day U.S – China trade talks being conducted failed to generate any meaningful progress. "In order for us to get a positive result out of these engagements, it's really critical that they address the fundamental concerns that we have raised," a senior administration official told reporters.
A Chinese delegation led by Commerce Vice Minister Wang Shouwen is in Washington for talks with a U.S. team led by Treasury Undersecretary for International Affairs David Malpass. But despite the dialog, both the United States and China imposed 25 percent tariffs Thursday morning on an additional $16 billion worth of each other's goods amid an escalating trade war.
The political hot water President Trump is dealing with at home, combined with China's delegation returning to Beijing without a deal and a ratcheting up of tariffs, has put a lid on the market building on the solid gains for August. As has been the case since March when the first salvo of trade war rhetoric was launched, the market tends to sell off in knee jerk fashion only to recover and resume its primary uptrend.

With the Mueller investigation getting more fodder from the fallout of the Cohen and Manafort cases, I expect market volatility to increase as China, the U.S., Trump and Mueller all get more emboldened in their respective positions on trade and politics. It's turning out to be one hot summer inside Washington's corridors amid cooler outside temperatures, and yet ongoing evidence of a strong U.S. economy has the stock market shaking off disruptions both foreign and domestic.
---

"I'm investing my own money in each and every stock as my AI platform identifies."
And remember we're not talking about day-trading here. I'm looking for 50-100% gains inside of the next 3 months, so my weekly updates are timely enough for you to act.
Within the RoboInvestor Portfolio we have five sell orders that are working to reduce some positions by 50% in an effort to book solid gains while respecting the rise in late summer risk-off tendencies recently catalyzed by this week's events. Great stocks will hold their own, but this is no time to be greedy when heady profits can move from paper to realized cash.
Case in point was last week's pick to go long GrubHub Inc. (GRUB). My AI platform picked up on this stock and gave me buy signals across the board from the Stock Forecast Toolbox and the Seasonal Charts. We jumped in with a cost basis of $127.50 this past Monday, August 20, and as of yesterday the stock was trading at $139- which is +9.8% higher on the week so far. I'm looking to sell half my position at $141.01 which will generate a profit of +10.6%. By the time you read this update, we might have already booked the gain considering the way the stock is moving.

From the Seasonal Chart above, my AI data is forecasting 100% probability that shares of GrubHub will enjoy an upside bias for the next 20, 30 and 40 days with a 92% probability of trending higher over the next 50 days. This is about the most powerful reading that my AI system generates and our 9.8% gain over a four-day period is testament to why we lean in hard when we get a buy signal like this.
Taking half our profits off the table is prudent money management. While the trend is GrubHub's friend, the stock can move right back to $127 where its 20-day moving average sits. This can afford us another opportunity to work this name for all its worth, while simultaneously maintaining half of our position for a longer-term upside objective. Using stock and market volatility to compound our total return is what makes investing with artificial intelligence exciting. When I get hold of a stock like GrubHub, it means we have a serious asset that can make an impact on our personal portfolios.
But in order to get the rhythm correct on stocks like GrubHub and other RoboInvestor positions actively managed for when to exit for gains and when to buy back on dips, it's incumbent upon RoboStreet readers to become RoboInvestors and invest alongside me. All you need is a cup of coffee, a mouse and five minutes of your time to enter a few limit orders. That's it. I make it easy, fun and, most importantly, highly profitable. While headlines out of Washington might blanket cable news and talk radio, RoboInvestor mutes out the noise and methodically makes money…all the time.
---

"I'm investing my own money in each and every stock as my AI platform identifies."
And remember we're not talking about day-trading here. I'm looking for 50-100% gains inside of the next 3 months, so my weekly updates are timely enough for you to act.