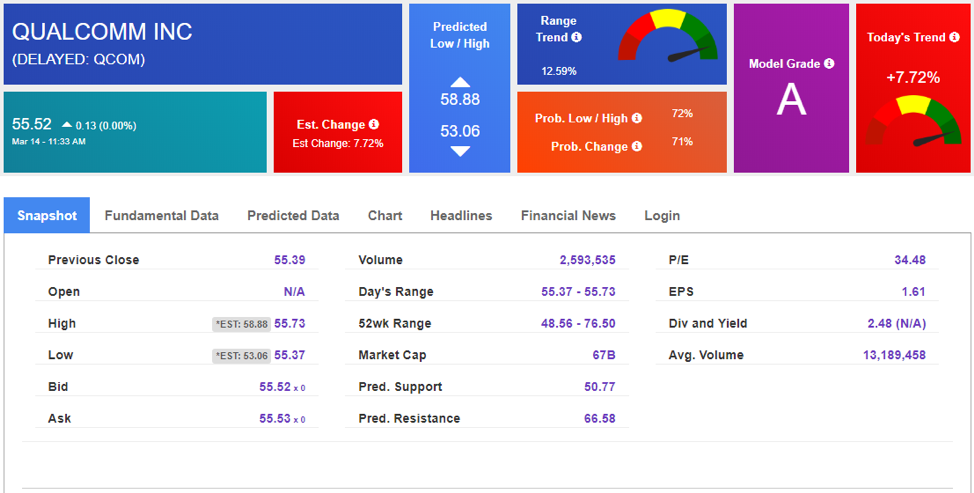 5G Buy! Buy! Buy!
RoboStreet – March 14, 2019
What 5G Technology Means for the Future
As the business and consumer worlds embrace the Internet of Things, making billions of devices communicate with each other in a seamless, secure and efficient ways takes an elevated level of technology that is being rolled out around the globe. The term "5G" is the buzzword for 'fifth generation wireless network technology' expected to be a major catalyst across all segments of business and our personal lives. According to an Ericsson survey, "92% of executives from 100 major telecom operators, globally, agree that 5G will pave the way for new emerging technologies."
As the world continues to move more of its communications and data onto mobile networks, 5G promises to deliver a much more robust experience than the current 4G technology in place. The most glaring improvement will be the speed with which data is transmitted, making 4G look like a Model T compared to a 5G Ferrari. To put it succinctly, 5G offers super-fast data speeds, considerably wider application, much lower latency, less energy consumption, efficiency cost savings, the ability to handle much larger numbers of devices simultaneously – making it the quintessential enabler for the Internet of Things (IoT).
One can download an HD movie in a millisecond compared to a minute or longer and allow for more than 100 times more of devices to be connected within a given area without the usual drag on the network when everyone is online during a snowstorm. The thinking that brought about 5G to fruition is to bring major advances to wireless networks where there will be more than 80% reduction of network energy usage while increasing battery life for mobile devices by several years.
---
"I'm investing my own money in each and every stock as my AI platform identifies." 
And remember we're not talking about day-trading here.  I'm looking for 50-100% gains inside of the next 3 months, so my weekly updates are timely enough for you to act.
---
While 5G is all the rage of themes being touted for 2019, the technology itself is a long way off from becoming mainstream, but like any transformational technology, getting in early with those companies that will benefit most from its application is what investing is all about. Whether the targeted markets are healthcare, self-driving cares, retail, finance, logistics or communicating with smart homes the potential is huge for advancing the way we work and live.
When the race is on to be first to market with 5G technology, I like to invest in what I refer to as the "arms dealers" in the space. These are companies that supply all the network service providers, makers of mobile computers, smartphones and everything wireless has to run over a secure network. One company that will provide the "guts" to most of these companies in Qualcomm Inc. (QCOM),the premier maker of 5G modems in the world.
The company led the market in 3G and 4G technology and its newest modem, the Qualcomm Snapdragon X50 5G, is designed to achieve up to 5 Gbps in downlink peak data rate, which translated means "lightning fast" broadband speeds and bring highly advanced scalability to corporate networks. The company is superbly positioned to be the de facto standard in 5G chips and deserves some serious consideration for investors looking for stocks within the 5G theme. Trading at $55.50 and sporting a 4.47% dividend yield, the stock offers tremendous upside potential and a very attractive yield along the way.
As to how Qualcomm measures up against my proprietary AI tools, the stock is poised to be a big winner. My Stock Forecast Toolbox has a Model Grade "A" for the stock with an initial target of $66.58, or 20% higher from where it currently trades.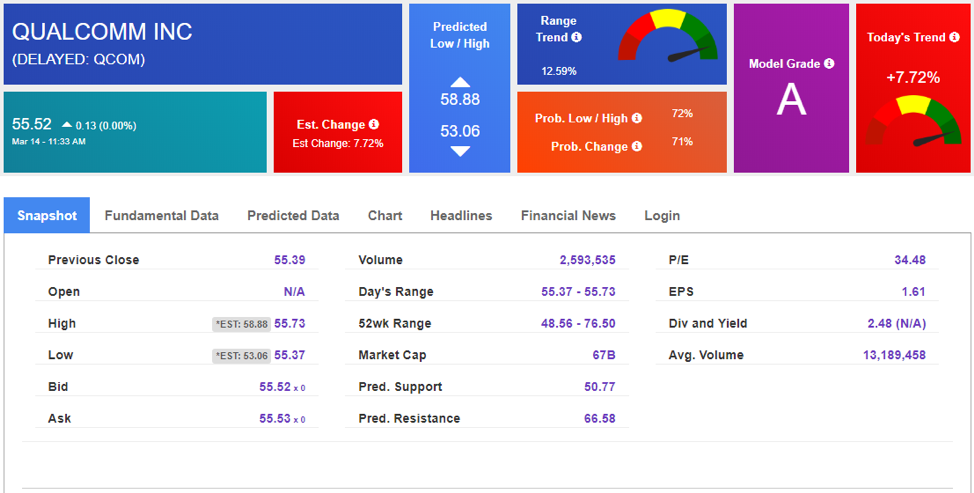 Looking at the Seasonal Chart, the stock rates "higher" in probability for three out of four time periods. Based on my AI system, the table is set for QCOM to outperform in the days, weeks and months ahead.

Qualcomm Inc. (QCOM) is only one way to play the 5G rollout. There is a short list I've created of stocks that stand to really shine as momentum builds for the sector that draws fund flows from both institutional and retail investors.
To gain an upper hand on how to maximize profiting from 5G, make a conscious decision to sign up for RoboInvestortoday and let me take the lead in capturing the best entry and exit points within the 5G space. My investing capital is right there with yours in every trade, so you know I'm serious about each and every investment. There is no such thing as a 'casual trade' within the RoboInvestor Portfolio.I invite all readers of this column to join me today and let the power of AI take hold of your portfolio tomorrow.
---

"I'm investing my own money in each and every stock as my AI platform identifies." 
And remember we're not talking about day-trading here.  I'm looking for 50-100% gains inside of the next 3 months, so my weekly updates are timely enough for you to act.